The beautiful city, Marbella, is located on Spain's southern coast in the Andalusia region, about 600 kilometers southwest of Malaga and 257 kilometers southeast of Seville. Marbella is a popular city for its Mediterranean humidity, gorgeous beaches, plenty of luxury hotels and resorts, and vibrant nightlife. It is also a well-known place among the golfers, as there are many world-class golf courses here. A unique tourist destination, Marbella is one of the most visited cities in Spain, with more than 800,000 tourists from all over the world each year enjoying the sunny weather and Mediterranean atmosphere.
Marbella is a great vacation destination, and the city has a lot to offer. The city also has an important archaeological heritage, numerous museums and performance venues, and a cultural agenda of events ranging from reggae concerts to opera performances. From admiring the art at the Ralli Museum to attending a traditional Andalusian horse and flamenco show, Marbella has plenty to do.
In this blog, we will talk about the city and its various aspects: environment, culture, public transport, housing, etc. And finally, some sentences to get you started. Keep reading for more!
City overview
The city Marbella is a municipality in Spain in the province of Malaga, which is an autonomous community in Andalusia. It is part of the Costa del Sol and home to the Regional Association of Municipalities. It is also the head of the judicial district that bears its name. Marbella is located on the Mediterranean coast, between Malaga and the Strait of Gibraltar, at the foot of the Sierra Blanca.
The city covers an area of 117 square kilometers, with crisscrossing highway roads, which are its main entrances and exits. With a population of 141,463 in 2018, Marbella is the second municipality with the most inhabitants in the province of Malaga and the seventh in Andalusia. It is one of the main tourist cities of the Costa del Sol and is an international tourist attraction almost all year round, mainly due to its climate and tourist infrastructure.
Marbella can be split into two parts – the Old Town (Casco Antiguo) and the New Town (Nueva Andalucia). The Old Town is a more historical and traditional part of Marbella, with whitewashed buildings, red-tiled roofs, and winding streets. In this part of the city, you can find most of the city's historic sights and get an authentic Spanish feel. The New Town is a more modernized part of Marbella, with luxury hotels, exclusive shops and fine dining rooms, including Marbella's famous Golden Mile, a coastline home to some of the city's most popular beaches.
There are plenty of things to do to keep you busy during your visit to the beautiful city of Marbella, no matter which part of the city you stay in.
Environment
The city Marbella has a Mediterranean climate with strong Mediterranean influences. The summers are warm and dry, whereas the winters are humid and cool. The summers are mostly clear and winters windy and partly cloudy. Protected in the north by the coastal mountains of the Cordillera Penibética, therefore Marbella has a climate with an average temperature between 18°C and 19°C. The average winter temperature is approximately 17°C and the average summer temperature is around 27°C.
The period from June 20th to September 15th is the warm season, which lasts for three months. August is the hottest month of the year in Marbella. The average temperature during this period is 21°C and 29°C. From November 19th to March 19th is the cool season, the cool season lasts for four months. January is the coldest month of the year in Marbella, with an average temperature between 9°C and 16°C.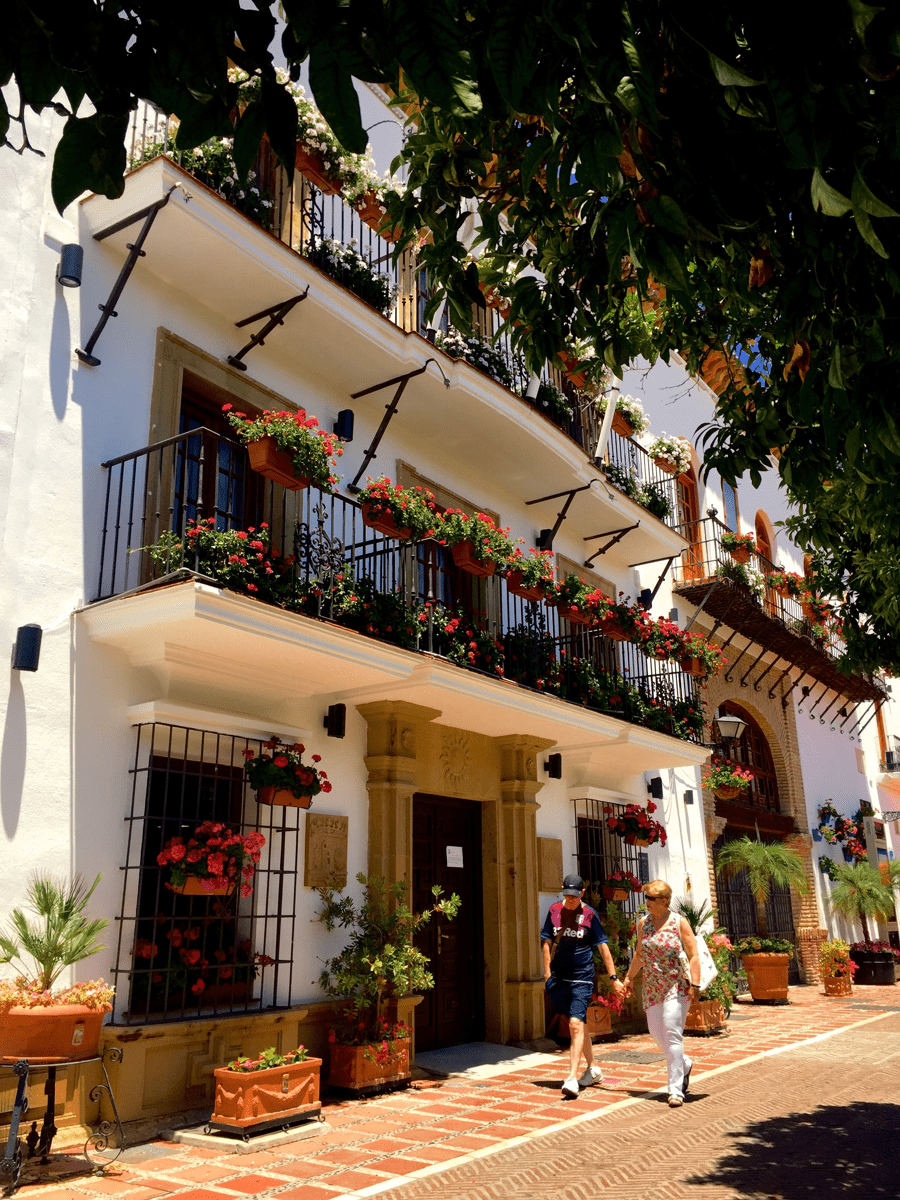 Culture and Nightlife
Origin of the city
Marbella's first settlements date back to the Paleolithic era. The Romans left a deep mark on the hot springs of Las Bóvedas and the villages of Rio Verde. Later the Visigoths came and inherited the early Paleochristian Basilica of Vega del Mar. Muslims already called it a huge walled "well inhabitant" building. When Muslim Marbella was captured by the Catholic Monarchs in 1485, the city left its walled enclosure and spread throughout the region. In the 19th century, Spain's first blast furnaces were built, making Marbella the capital of the iron and steel industry. 75% of the iron smelted in Spain came from the El Peñoncillo estate, which was in use until 1931. Before and after the Civil War, Marbella experienced an economic collapse that recovered from a tourism phenomenon. A remarkable change began in 1940 and accelerated from 1943.
Marbella was rebuilt to accommodate visitors, houses were remodeled, and land values changed. In the 1950s, the first architects of the 'Tourist Mecca', Alfonso de Holenlohe and José Banús, arrived in Marbella. The latter undertook the largest urbanization known in the country at the time, a huge development with a macro-project called 'Puerto Banús, which included several hotels.
In the 1980s Arabs emerged as major investors. King Fahd built his palace on extensive fenced grounds in the city, and the mosque of Marbella was built. For decades, Marbella has been at the forefront of finance and real estate and has gradually been incorporated into what we know today.
Cuisine
Marbella's traditional cuisine is from the Malagueño coast and is based on seafood. The most typical dish is fried fish with anchovies, mackerel, mullet or squid. Soups like gazpacho and garlic soup are also very common here. The bakery sells oil cakes, wine donuts, borrachuelos (anise breads fried in wine and soaked in syrup), torrijas (like French toast), and churros (fritters). Besides the traditional regional cuisine, Marbella also has many restaurants serving different cuisines, such as international, nouvelle or fusion cuisine.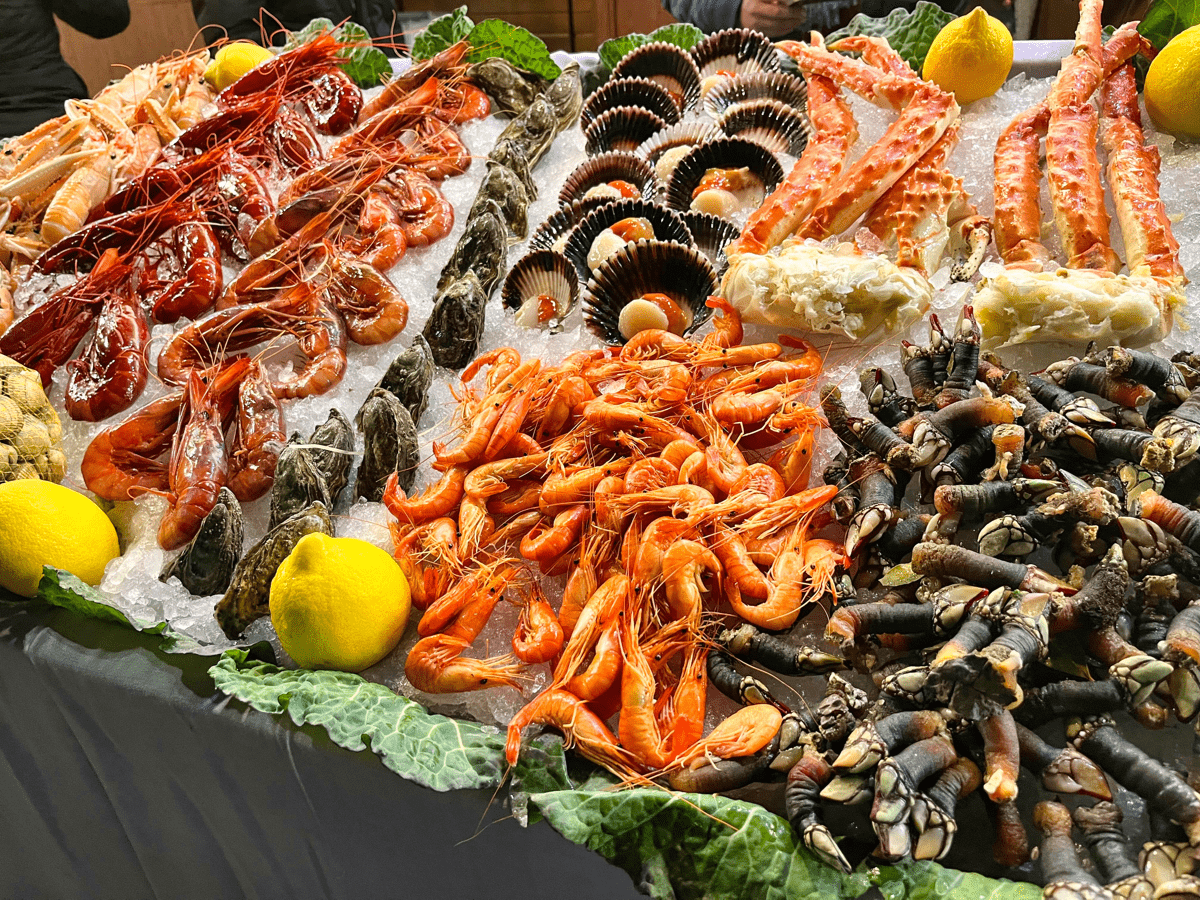 A specialty of Andalusia, this dish is made with raw mixed vegetables such as tomatoes, garlic, peppers, cucumbers, onions, olive oil, wine vinegar, water, salt and cottage bread. It is the perfect snack for a spring/summer lunch. You can try different versions of gazpacho at any restaurant in Marbella.
Gazpacho comes from Andalusia and most restaurants in Marbella serve their own version of this world-famous cold soup. Tomatoes, peppers, garlic, cucumbers, bread, olive oil, water and garlic. A perfect mix for a light lunch or afternoon snack. Especially recommended if you visit this city in spring or summer. This Andalusian classic tastes even better with a glass of chilled white wine.
The dish was introduced under Moorish rule and was later heavily influenced by Roman cuisine. Ajoblanco is another cold soup to try in Marbella. Sometimes called white gazpacho, ajoblanco is an ideal way to beat the heat of July and August. This cold soup is made with green apples, milk, diced white bread, green grapes, blanched almonds, garlic, black pepper, salt and wine vinegar.
The soup ajoblanco is a cold almond and garlic soup that dates to the times of Spain under Moorish rule. Other main ingredients are milk, white bread, grapes and apples. In Marbella the soup is served with juicy melons, a very common thing. It makes this ideal for a refreshing snack or light lunch during the high temperatures in July and August.
A visit to Marbella quickly reveals that seafood is what it does best. That impression is only confirmed when you try Gambas al pil pil. The recipe for gambas al pil pil, or spicy garlic shrimp pil pil sauce, dates to the 19th century. Raw shrimps are fried in their own juices with olive oil, chili, peppers and garlic and served sizzling in small special clay pot, the cazuela. The dish is served with lemon wedges and farmer's bread, which is used to mop up the flavorful sauce.
Marbella's beaches are abounded with estepos de sardinas, skewers of sardines. This is the easiest and most delicious way to prepare these small, meaty fish. The sardines are skewered with wooden sticks and planted in the sand by the fire for their smoky flavor and crispy skin.
Espetos de Sardinas on the Costa del Sol are Marbella's signature dish. Grilled sardine skewers are Malaga's specialty and even have a monument. Up to 6 sardines are skewered and grilled over an open fire. Afterwards, the skewers are planted in the sand next to the charcoal. The sardine skewers will become smoky and crispy!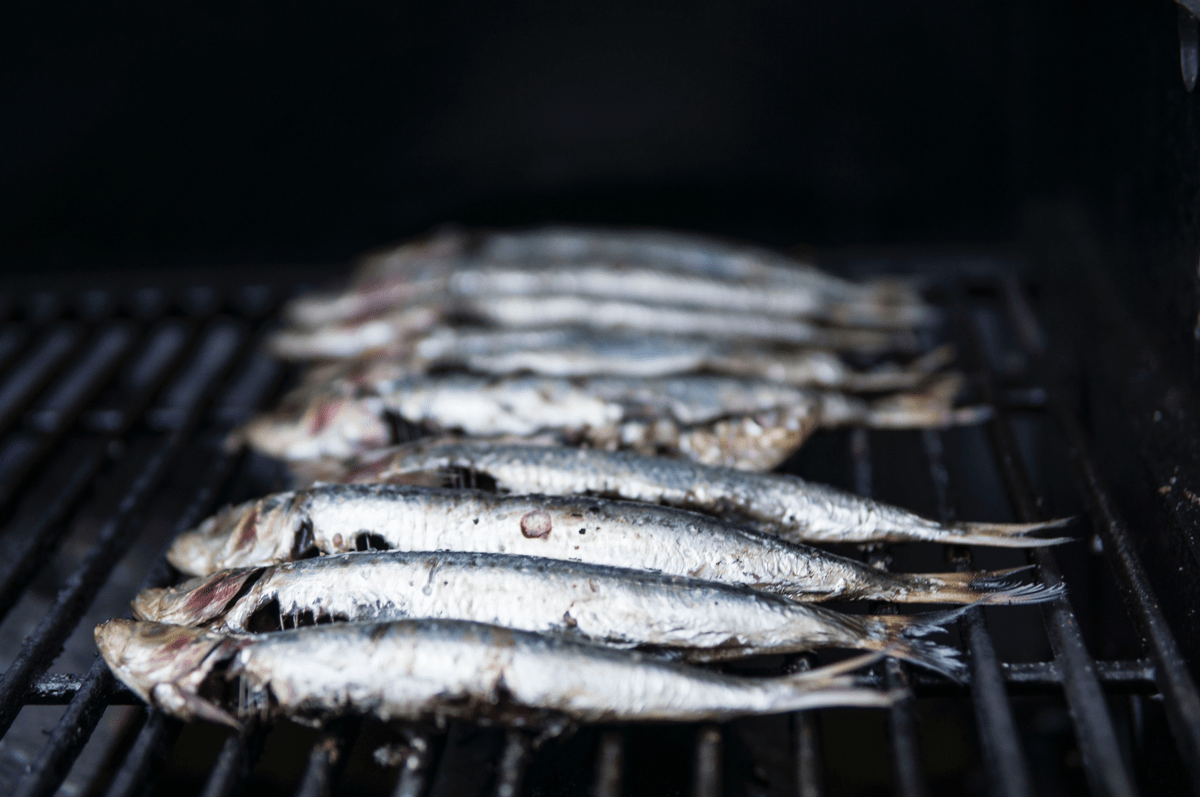 Boquerones (anchovies) are a very popular tapas in southern Spain, and fresh fish is a staple in Marbella. They are served as a cold snack and are dressed with olive oil, vinegar and garlic. Or, deep-fried in a salty batter, garnished with the requisite wedge of fresh lemon (or sometimes lime) and served piping hot. Best enjoyed with an ice-cold caña (small beer) in a chiringuito.
A very popular food in Andalusia. Boquerone or anchovies are served as appetizers or tapas. This small fish has a pungent, salty flavor and is traditionally marinated in garlic, vinegar and olive oil. It can be tried as a cold snack or batter fried and hot. It is usually paired with a fresh lemon or lime and pairs perfectly with an ice-cold Caña or a small beer. Head to El Cordobes for fresh, delicious anchovies.
If you are in one of the many fish restaurants of Marbella and struggling to decide what kind of fish is on offer. There is an easy solution for this, just order the Fritura Malagueña also known as pescadito frito. This Costa del Sol dish is a specialty served as a diverse seafood platter with various elements such as shrimp, squid, sardines and cod fillet, lightly fried in a spiced dough.
A great combination of squid, crustaceans and local fish including sardines, squid, mullet, monkfish, mackerel, small hake and Norwegian haddock. Everything, all these seafood is fried in a salty batter and drizzled with lemon juice. Fritura Malagueña is served with a salad of roasted peppers and a refreshing cold beer. For delicious fried seafood and beautiful views, visit La Bocana Restaurant. This dish is also great for sharing!
Festivals
June hosts the San Bernabe Fair and Fiesta honoring Marbella's patron saint. The activities and shows last a week and are split into two parts: the Fair Day, which starts in the old town and is now held in Avenida del Dr. Mize Vinalz, and the Fair Night, in Arroyo Primero.
In October, fairs and festivals are held in honor of the patron saint of San Pedro Alcantara. These also last for a week. Also popular are the small Nueva Andalusia fair and festivals held in Las Chapas and El Angel in early October.
During the summer months (July to October), most of Marbella's barrios host events organized by neighborhood associations to promote cultural activities such as bullfights, musical performances, photo contests and sporting events. Some of the most famous associations are Santa Marta, Salto del Agua, Leganitos, Divina Pastora, Trapiche, Plaza de Toros and Miraflores. Other festivals and local celebrations include the Cruz de Juanar (May), La Virgen del Carmen (July), and Dia del Toston (November).
Nightlife
Marbella is not all about partying, but that does not mean that those who come here for the nightlife will find it wanting. Behind Paseo Maritimo, there are many late-night bars and clubs. Bar Buddha is one of the recognized bars, but the real party scene is in the west part of the city. Clubs by the 'Golden Mile' host the world's best DJs in the summer, while Puerto Banús provide a venue for all kinds of party animals.
Marbella is known worldwide for its quality nightlife. From sophisticated bars in the modern city center (around Avenida Miguel Cano) to celebrity pubs along the Golden Mile (between Marbella and Puerto Banús), Puerto Banus' glittering nightclubs are a party-lover's paradise.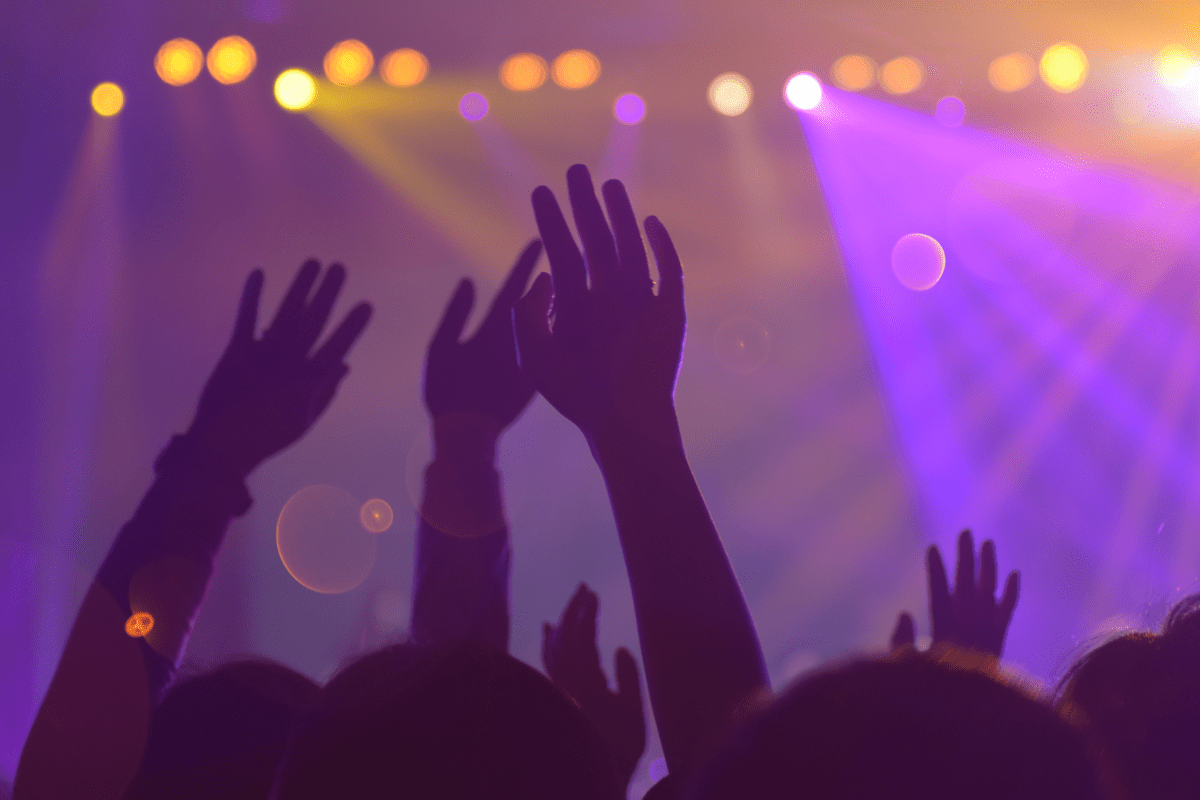 Activities
Sunbathing on the beach, shopping at La Cañada shopping center, exploring the Old Town and dancing in nightclubs are some of the popular activities here. Marbella is a beautiful city with something for everyone. Whether you want to relax on the beach, play golf or party the night away, Marbella has it all.
Discover the Salvador Dalí sculptures
The Spanish surrealist artist Salvador Dalí (1904-1989) never lived or worked in Marbella, so there is no particular reason why the city should have one of the greatest collections of his sculptures in the world. In Avenida del Mar, a spacious square by the sea surrounded by modern apartment buildings, there are still ten of his Catalonian surrealist works. The best part is it does not cost a penny to stop and admire Salvador Dalí's work.
Relax on one of the beaches in Marbella
Marbella has 24 beaches along its 27 km coastline. Each coast is unique but offers golden sands under sunny weather almost all year round. No wonder Spain's Costa del Sol is one of Europe's most popular tourist attractions. Some beaches, such as Bono Beach, Playa del Cristo and Estrella del Mar, are perfect for families, with shallow, calm waters, soft sand and restaurants with children's menus. Marbella Beach Club, Nikki Beach and Ocean Club offer a party atmosphere with all the glitz and glamour typical of Marbella.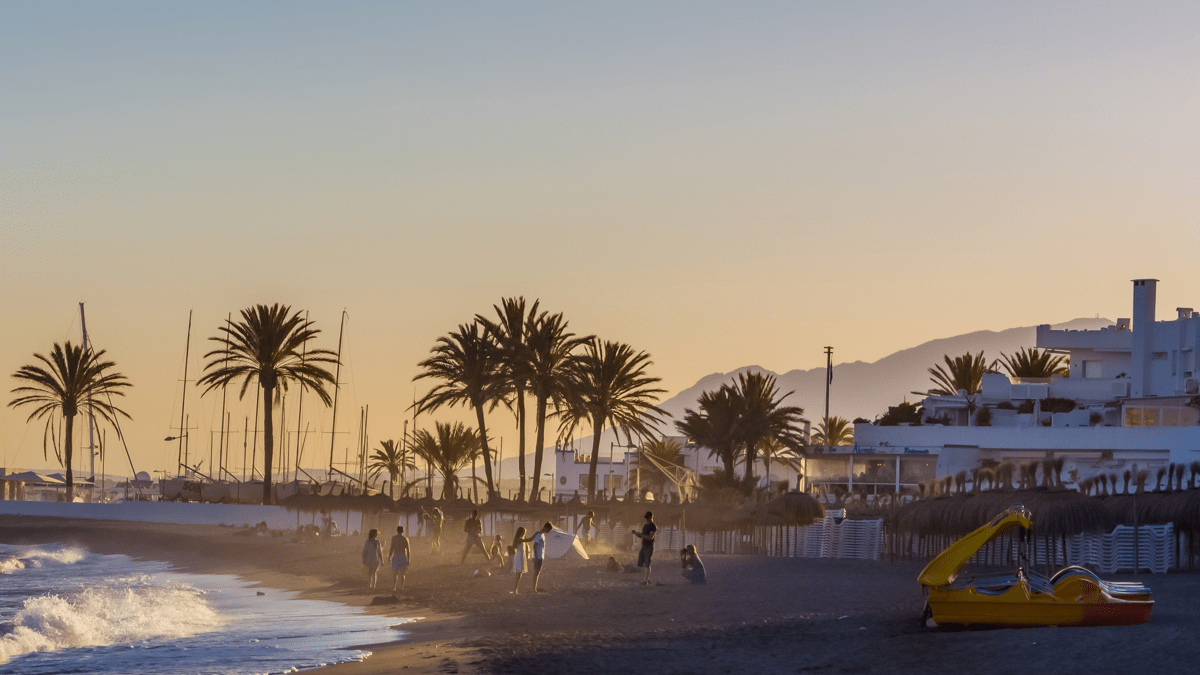 Explore Casco Antiguo, the old town in Marbella
A visit to Marbella is never truly fulfilled until one has roamed through the historical district of Old Town Marbella, also referred to as Casco Antiguo. This segment of the Spanish coastal city boasts traditional architecture, with its quaint, white-washed buildings, red tile roofs, and labyrinthine streets.
Experience the authentic essence of Marbella and soak in its traditional charm by exploring the Old Town. This vibrant quarter was once the Old Medina of Marbella, featuring enchanting Arabic-inspired architecture and cobbled pedestrian thoroughfares that continue to evoke the area's rich heritage. The Old Town is home to numerous historical landmarks along with a vast array of shopping, dining, and café options.
If you're visiting Old Town Marbella, be sure to check out the charming Orange Square, the historic Town Hall, and the stunning Church of Our Lady of the Incarnation – all must-visit sights.
Enjoy drinks at the Rooftop Bar Belvue
After a long day of sightseeing, there is nothing better than relaxing with a delicious cocktail at the rooftop bar overlooking Marbella's skyline. Rooftop Barbell View is one of the best places to have a drink and watch the sunset. Located on the top floor of the hotel, this bar offers great views of the city. The menu offers a variety of cocktails and some small dishes if you are looking for something to eat. If you are looking for a way to spend a relaxing evening in Marbella, Rooftop Bar Belvue is the place to be.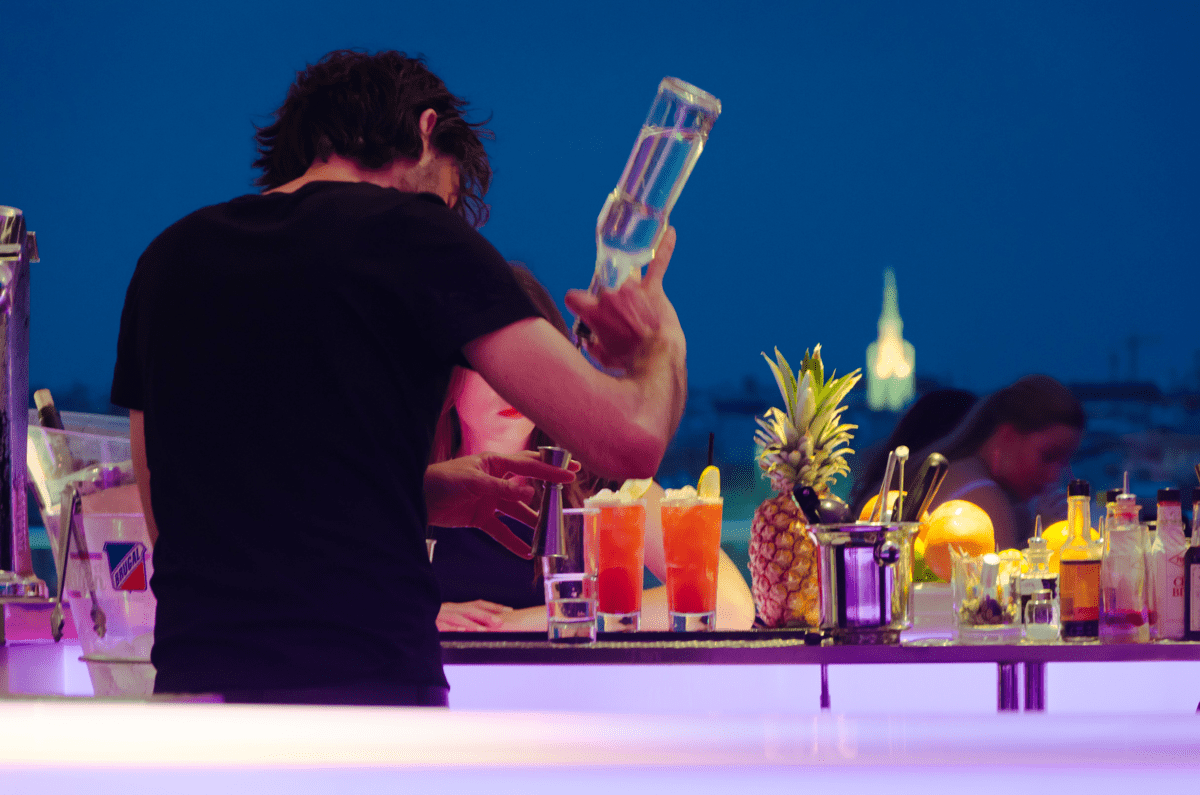 Take a visit to the Iglesia de la Encarnación landmark
The Church of the Incarnation is one of Marbella's most important landmarks and a must see for anyone visiting Marbella. The Church of the Incarnation also known as the Iglesia de la Encarnación is built in the 16th century on the place pf a mosque which was destroyed during the Reconquista (regain). The church in its whole is just a masterpiece, it has a large Neo-Baroque façade and two bell towers on the church's exterior. The interior of the church has ornate altars, stained-glass windows and carved wooden ceilings. The Church of the Incarnation is open from Monday to Saturday from 8 AM to 10 PM. On Sundays they are open from 9:30 AM to 10 PM. Entrance is free, but modest clothing is required to enter the church.
Admire Marbella's Castle and its architecture
Located in the city's Old Town, Marbella Castle is a must-see for architecture lovers. This Moorish castle was built in the ninth century and is one of the best-preserved Moorish buildings in Spain. The castle is perched on a hill overlooking the city, so you can enjoy the great views of Marbella during your stay.
Marbella Castle is open to the public to explore the castle grounds and interior. There is also a small museum on site that is well worth a visit. This attraction in Marbella is worth a visit, especially if you are interested in Spanish history and architecture. If you want to learn more about Marbella's history, Marbella Castle is a great place to start.
Go shopping at La Cañada
No trip to Marbella is complete without shopping at the La Canada Shopping Center! This mall is one of the best places to find designer brands and a wide variety of restaurants and cafes. This indoor shopping center is located just outside Marbella and is easily accessible by bus or car. With over 150 shops, you are sure to discover what you are looking for, whether it is new clothes, souvenirs or just a quick bite.
Visit the Marbella's markets
Marbella boasts a plethora of markets that offer an assortment of goods, ranging from locally sourced groceries to mementos. For a souvenir to commemorate your trip, a visit to the Mercado Mercadillo or Marbella's flea market on Mondays from 8 am to 3 pm is a must. Here, one can find exceptional gifts and keepsakes.
Every Saturday from 8am to 2pm, the Marbella farmers market offers an abundance of fresh fruits and vegetables. It's an excellent spot to procure ingredients for your upcoming culinary creations.
For a swanky retail experience, head to the city center's expensive department store, El Corte Inglés. This shopping hub boasts an extensive collection of upscale clothing, cosmetics, and home goods.
Admire the Ralli Museum
If you are interested in the best art in Marbella, the Ralli Museum is a great place to visit. The museum has a huge collection of art from all over the world and is well worth a visit. With works by Salvador Dali and Marc Chagall on display, you are sure to find something you like.
Even if you are not an art lover, the Ralli Museum is a great place to visit. The museum is housed in a beautiful building surrounded by gardens. The Marbella location is just one of many Ralli museums around the world. If you have the chance, check out the other museums as well. If you need a break from sightseeing in Marbella, the Ralli Museum is the place to go. The museum is free and open to the public.
Go deep sea diving on the coast of Spain
If you think Marbella is beautiful from the coast, wait until you see it underwater! Diving is a popular activity in Marbella, and there are many diving schools and tours in the city. Whether you are a certified diver or have never dived before, you can find a dive trip that fits your needs. There are also numerous diving sites around Marbella, allowing you to explore the underwater world at your own pace. If you are looking for adventure, scuba diving is a great option.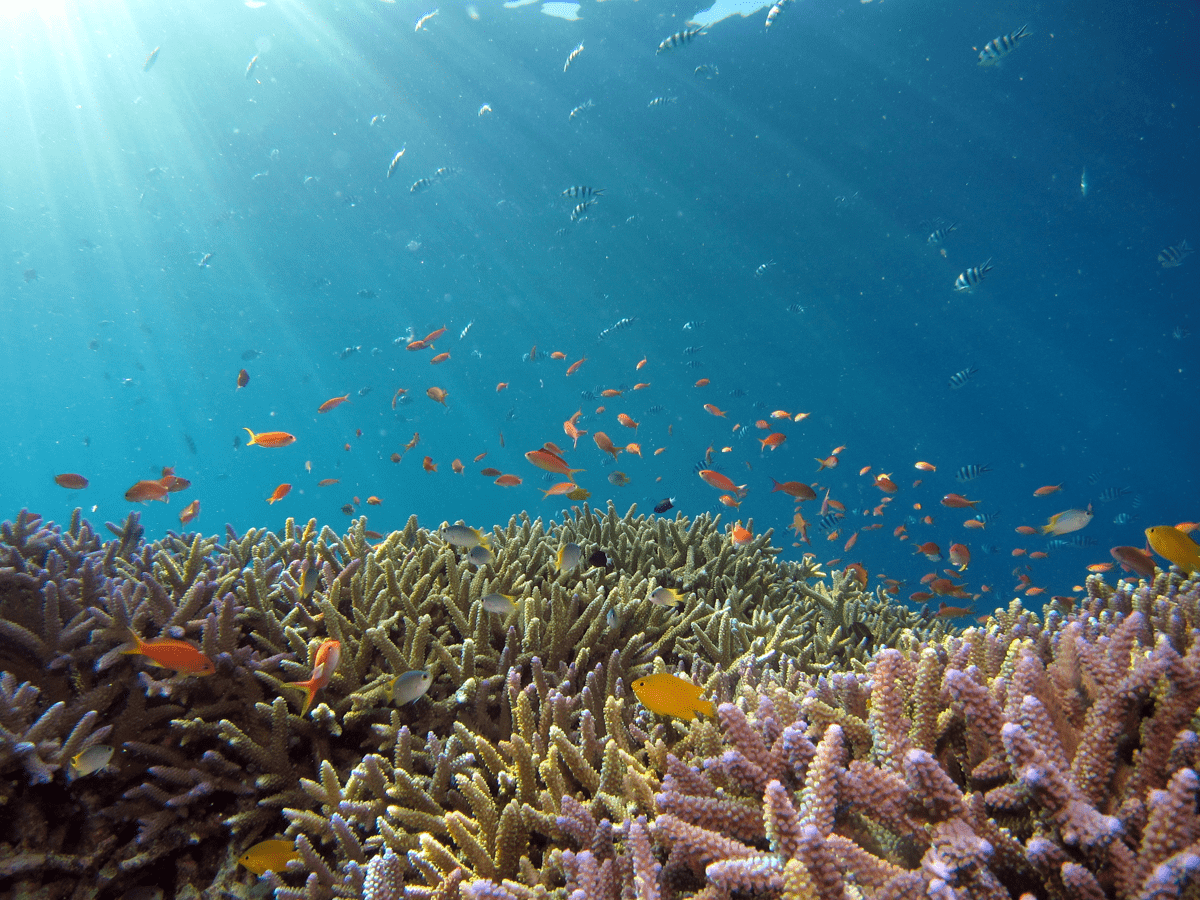 Take a walk in the Alameda Park
Marbella has plenty of parks to walk through, however Alameda Park is one of the most beautiful parks. The park is full of palm trees, flowers and sculptures. It is like a little jungle in the middle of the city. A great place to go for a walk, have a picnic, relax in the sun and get away from the hustle and bustle of the city.
Andalusian-tiled seats line the paths of Alameda Park and are the perfect place to sit, watch people and enjoy the Spanish charm of Marbella. The beautiful fountain is the centerpiece of Alameda Park and may be a well-known photo spot. If you are traveling with children, they will love the Alameda play area. There is also a pond in the park where you can feed the ducks. The park is open daily from 9 AM to 10 PM.
Go out in one of Marbella's trendiest nightclubs
Located on the edge of Paseo Maritimo, seven kilometers west of the old town, Puerto Banús is an upscale marina with stylish bars and clubs. You are likely to meet celebrities at prestigious venues like Pangea and Sinatra's, and you can dance the night away at trendy nightclubs like Aqwa Mist and Kube, and many more! As well as these fancy venues, Puerto Banús is also home to several affordable bars and clubs, including cool, well-established O'Grady's Irish Pub and Joy's Live Pub.
Public transport
Coastal cities such as Málaga, Estepona, Torremolinos, Fuengirola and Gibraltar can be reached by bus from Marbella. The area is also served by the A7 motorway. The nearest airport is Malaga Costa del Sol Airport. As with other popular vacation destinations, transportation to and from Marbella is plentiful and easy.
Walking
Walking is probably the best way to see Marbella's sights. It is free and lets you take the route you like, with unlimited stops, so you only see what you really want to see, when you want to see it and spend as much time as you wish. Especially in the old town, because the roads are narrow and sloping, cars cannot pass through, and cycling is also difficult. Hiking also means stopping at anu number of bars and cafes along the way!
Cycling
Marbella is a great place for cycling! For those looking for a leisurely ride, the Paseo Maritimo is ideal. There is a lot to see between Marbella and Puerto Banús and it is flat. Pass five-star hotels, pine forests, beautiful seascapes, parks, Roman ruins, small restaurants and churingos, and finally arrive at the brazen port of Puerto Banús with its expensive cars and yachts. If you want to work out, go to the mountains. Mount La Concha and Refugio de Juanar have many routes for the ultimate mountain biking experience.
Horse and carriage
Another popular traditional way to get around Marbella is by horse and carriage. This is a unique and easy way to travel around the city. Horse-drawn carriages can be found on many street corners of Marbella. It is a lovely eco-friendly way to travel (the horses are well groomed) and if you are on a romantic getaway, this is the way to spend a romantic evening. As a bonus, they take you where cars cannot go. Parks and harbors are popular places for horse-drawn carriages.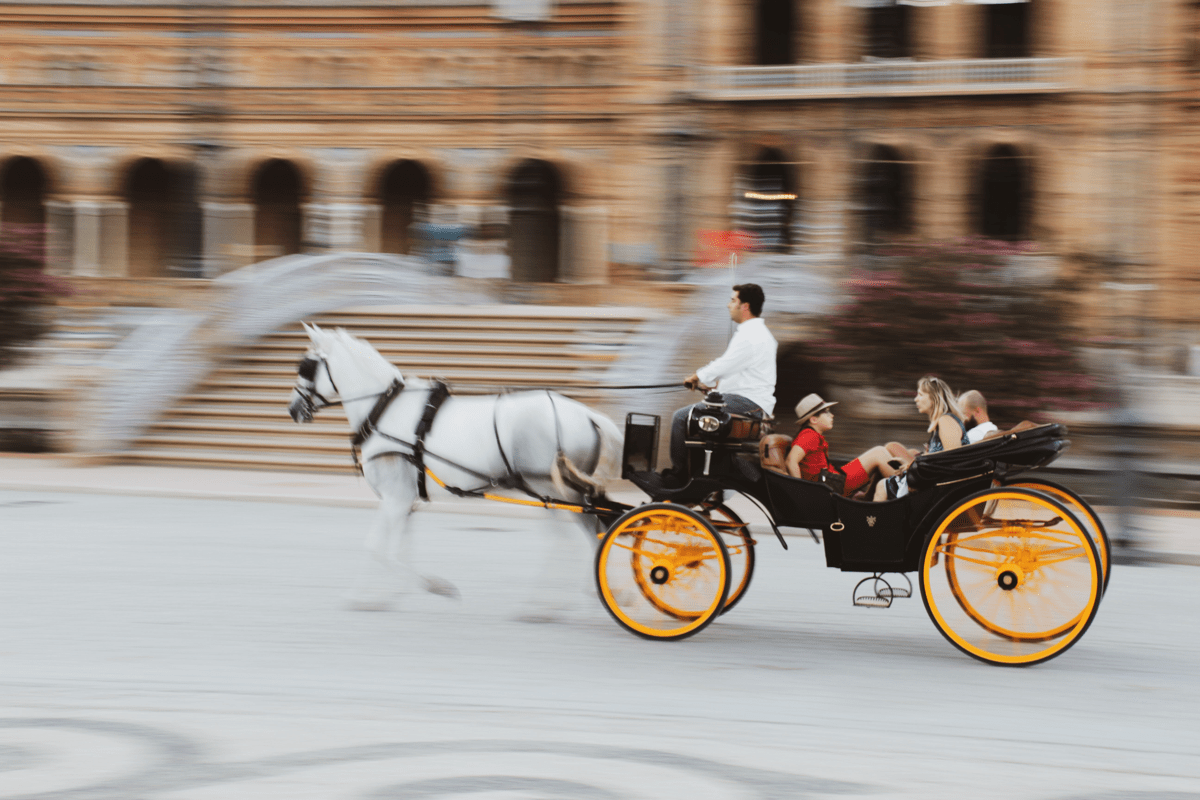 Rail
Marbella is the most populous municipality on the Iberian Peninsula, the only Spanish city without a railway station on its territory and with more than 100,000 inhabitants not connected by rail. A project is in motion to build a railway (Costa del Sol Railway) connecting Nerja, Málaga and Algeciras. It may be a high-speed train with multiple stops in Marbella. Until then, the nearest station is near Fuengirola, which is 27 km away. Further afield is the Malaga Maria Zambrano in the city of Malaga and the Ronda train station, both 57 km (35 mi) away.
Bus
Marbella has several local bus services that take you around the city, including Puerto Banús, Nueva Andalusia and San Pedro. Marbella's bus station offers direct links to Málaga Airport and Madrid. The bus station is on Avenida del Trapiche in the north part of the town center.
Boat
The Fly Blue Catamaran offers daily sails between Marbella and Puerto Banús. It takes about 30 minutes and costs €15 for a round trip or €8.50 one way (for children it is €8.50 for a round trip and €5 one way). Tickets can be purchased from a sidewalk stand at the entrance to Puerto Deportivo in Marbella, and boats depart from the outer wall of the harbor. For those boarding in Puerto Banus, you can purchase a ticket once on the boat that departs from the marina.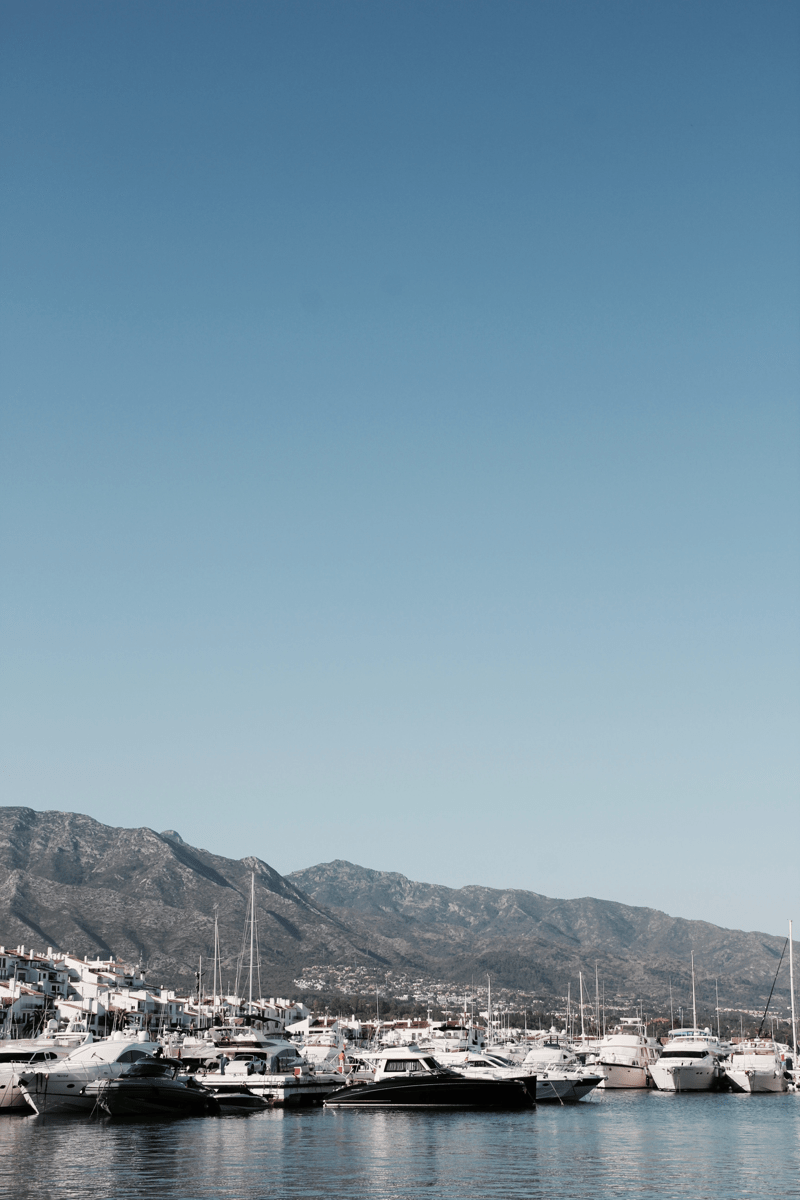 Taxi
Marbella is dotted with many taxi ranks. If you are not near these, you can hail a passing taxi from the street. They will happily stop and pick you up. Taxis can be expensive, but traveling short distances saves time and energy. However, be aware that Saturdays in Spain are more expensive as the same rates apply as taxi fares on public holidays. Taxi fares are higher after 22:00 on weekdays and after 21:00 on Fridays and Sundays. Marbella's taxis have recently been equipped with meters and several credit/debit card machines. If you want to take a taxi to the airport, it is recommended to book in advance or use an airport transfer company.
Car hire
Marbella has car rental companies, so renting a car while in Marbella is also an option. Perfect if you want to travel in the countryside or along the coast. A popular destination is Ronda, returning via Gaucín and Casares. Along the coast are the popular destinations of Sotogrande, Ginlartal and Tarifa.
Housing
If there was one area of Spain that exemplified the increasing cost of housing, it would be Marbella. This city on the Costa del Sol recorded the highest growth rate of any major Spanish municipality last year (2022). The price of real estate in this area increased by 19.9%, to an all-time high of €4,121 per square meter on average, according to data collected by the real estate portal Idealista.
Two other cities in the province of Málaga also saw prices increase by more than 10%. Mijas and Fuengirola each had 14.2% and 12.1%, respectively, and set new all-time highs. In the capital Malaga, prices increased by 8% between January 2022 and January 2023. According to INE, Spain's national statistical agency, it increased by 5.4% nationwide, well above the average year-on-year growth rate.
The real estate market has changed significantly since the pandemic began, with 4,628 sales in 2021 compared to 2,560 in 2020. People are looking for space and privacy away from the hustle and bustle of the city and Marbella with its stunning villas is the perfect destination. After a year of lockdowns and restrictions, sales of luxury villas in Marbella are seeing a big surge as new homes flock to the popular Spanish destination. In and around Marbella, the market has peaked towards the end of 2021. The first six months of 2022 also saw an increase by 65% compared to 2021, and there is no doubt that this trend will continue to increase heading into 2023.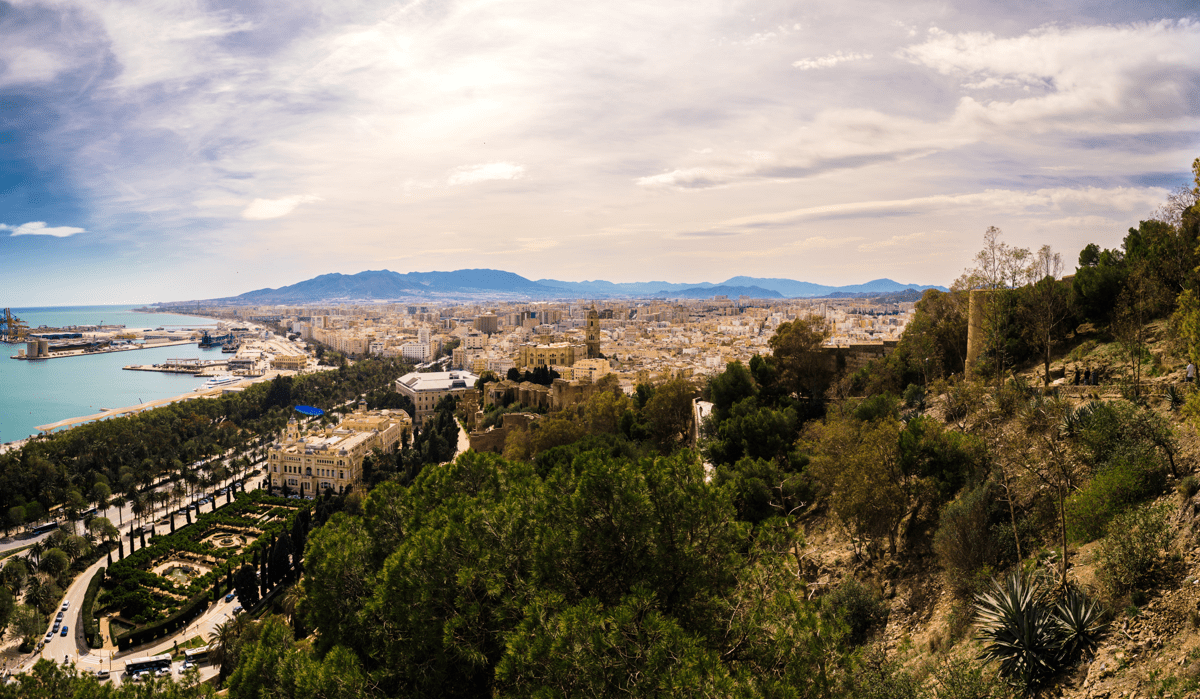 Marbella is frequently considered the first choice of foreigners interested in purchasing a permanent residence in Spain. Additionally, it is one of the most popular destinations for expatriates to live in as their primary residence. This is why, and because of the popularity of the area as a tourist destination, the cost of rental increases. As the cost of housing in Marbella increases, more people are choosing to own property in the city. This is often used as both their primary residence and vacation home, as well as a means of investing, it can provide a significant return.
Do not make a commitment to buy a house while you are still learning about the area. It is beneficial to rent the property for a while to get a feel for the area before committing to purchasing the Spanish property. This will allow you to understand the benefits and drawbacks of living in your chosen area, get to know the procedure in Spain and have a greater likelihood of a smooth and safe home purchase. When you are ready to purchase, remember that Marbella is still one of the most exclusive areas of Spain. As a result, you will have to spend a significant amount of money to buy a property there.
To find the perfect apartment, start with researching the area and familiarizing yourself with the city's geography and housing market. Once you have narrowed down your preferred location and budget, it is time to establish your apartment requirements. Keep an open mind regarding the specific location and try to visit as many apartments as possible within a short period of time. Using social media connections and joining Facebook groups and online communities can also increase your chances of finding a suitable apartment. While online apartment listing websites can be helpful, it is essential to keep in mind that properties are often rented out quickly due to the competitive rental market. It is also helpful to consider short-term rental options first, so you have plenty of time to look for an apartment in the long term.
Recruit4Work has teamed up with two top accommodation providers, Housing Anywhere and Uniplaces, to offer incredible discounts on your apartment rental. Simply choose your preferred website and enjoy a percentage discount on your rent. Click here for more information!

Healthcare
If you are an expat living in Marbella, or perhaps just visiting for a while, it is important that you and your family have access to basic healthcare. Spain's National Health Service is helpful, caring and professional, and private clinics on the Costa del Sol offer a great option for non-Spanish speakers.
Marbella offers a range of excellent medical facilities in both the private and public sectors. One of the many benefits of living in the Marbella area is the availability of general medical care for all common ailments in the community, such as the flu. There are also many specialists who provide advanced medical care for more serious and specific conditions.
Let's say you are planning to move to Marbella. In this case, it is important to know the local healthcare system, especially since Spain is known for its quality and affordable healthcare. A trip to sunny Marbella is an opportunity to relax in luxury resorts, play golf at some of the best courses in southern Spain and immerse yourself in the multicultural life of the southern city. People also come here for top-notch medical care. Medical tourism in Marbella involves approximately 200,000 people each year.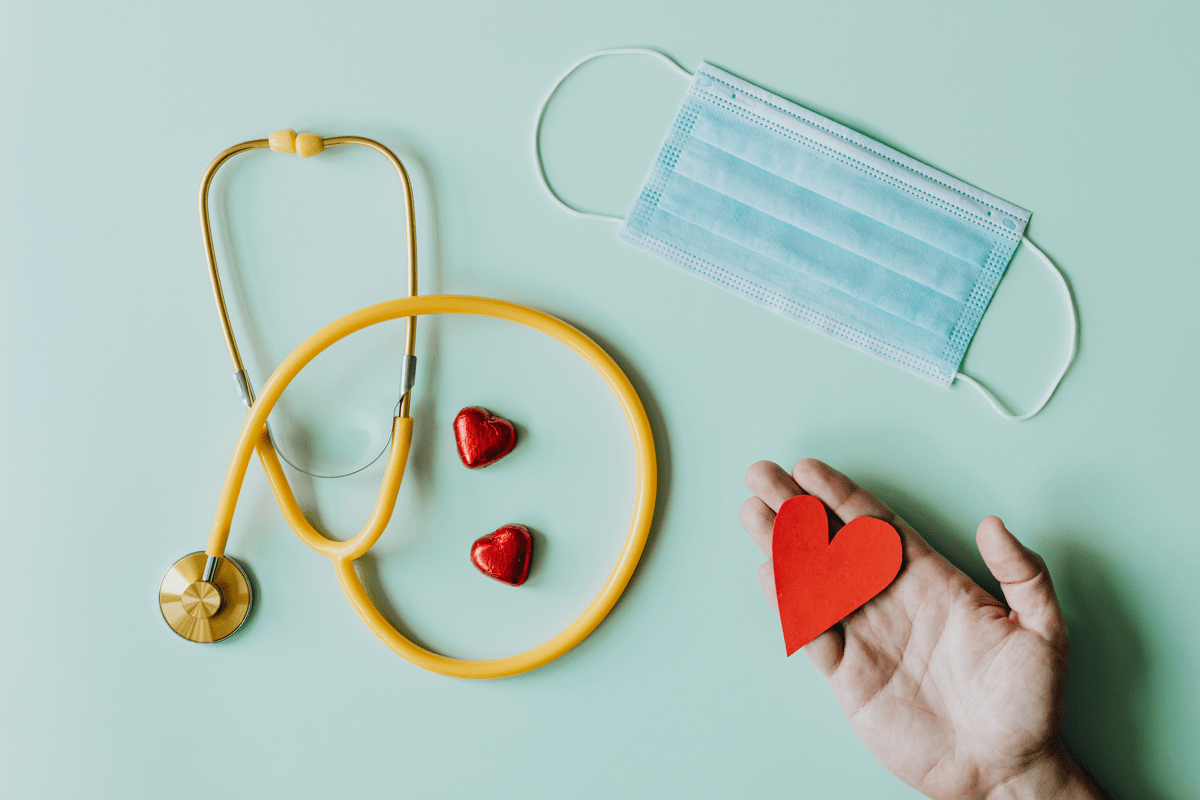 Each region of the country has public hospitals with modern medical equipment. Spain also has many specialized institutions and clinics, such as private otorhinolaryngology, endocrinology and gynecology departments. Pharmacies are very developed in this country. About 60,000 specialists work at this branch. There are about 1000 clinics throughout Spain, divided into public, private and military clinics. You are entitled to use these clinics with the help of medical insurance, the military has its own military insurance, and private services are paid for from the patient's personal funds.
Queues in public hospitals in Spain are common. Spaniards go to doctors and emergency rooms even for mild symptoms such as a runny nose or low-grade fever. But if there are too many patients in the hospital, the city hospital will send the heaviest to private clinics. But in general, Spain is considered a very healthy country. The main reasons for this are the atmosphere, healthy food, mild climate and an abundance of specialized sanatoriums.
Spaniards and foreigners with a residence permit have a social security card (Seguridad Social). This card is the basis for the issuance of a Personal Health Card (Tarjeta Sanitaria Individual, TSI) with the patient's personal identification number. The card provides free treatment at state hospitals and discounted prices on medicines at pharmacies.
Your TSI is like a passport and cannot be transferred to anyone, even family members. If you apply at the public health center of your municipality, it will be issued at your place of residence. The application must be accompanied by the following documents:
Identity documents
Copy of excerpt from social insurance register
Residence registration certificate issued at least three months prior to submission of application
The application can be initiated on its own or with the authorization of a power of attorney. If a patient lacks a residence permit, he can only receive free medical care in three instances: as a result of a crash, an accident or in the event of an urgent procedure. Tourists who do not have travel insurance are not permitted to receive medical care for free.
In case of an emergency 
Here is a list of emergency phone numbers for emergencies in Marbella. There are also some emergency words and phrases that can come in handy during an emergency.
Police: 091 
Ambulance: 061 
Fire brigade: 080 
General Emergency: 112 (European emergency number for contacting emergency services in all EU countries and languages. Save this number if you travel in Europe!)

Some words to get you started
Spanish is a language of the Romance branch of the Indo-European family that evolved from Latin spoken in everyday life on the Iberian Peninsula. Today, it is a global language that has about 486 million native speakers, primarily in the Americas and Spain. Spanish is the primary language spoken in 20 countries. It is the second most spoken native language in the world after Mandarin Chinese; it is fourth most popular language overall, after English, Mandarin Chinese, and Hindustani (Hindi-Urdu); it is also the most popular Romance language. The greatest number of native speakers are in Mexico.