No trip to northern Portugal is complete without visiting the stunning town of Braga, one of the most important cities in Portugal, located in the Cavado Valley in the Minho region of northern Portugal. Many tourists worldwide are attracted to the charming city of Braga. The city has very charming landscapes, famous squares, old narrow streets and beautiful Baroque churches. Braga is known for its dazzling architecture, vibrant nightlife, and rich history. Whether you want to explore the many museums and churches or enjoy a meal at one of the many restaurants, the city has something for everyone.
In recent years, Braga has experienced great prosperity and development in various aspects and fields. With its rich heritage, diverse traditions and breathtaking landscapes, it is often compared to the Italian city of Rome. The city has a rich history, stunning architecture and a wide variety of entertainment options. It also contains many religious shrines, including one of the most beautiful churches in Portugal, making it a holy site and one of the top tourist attractions for Christians worldwide.
City overview
Braga, built by the Carthaginians probably in 296 BC, was called Bracara Augusta by the Romans. The city served as the capital of the Callaici Bracarii, a Celtic tribe, and the meeting point for five strategic military routes. The city was conquered successively by the Suebi (5th century) and the Visigoths (585). Braga is known as the place where the Visigoths abandoned the heresy of the Arians and Priscillas, who opposed the divinity and sensual pleasures of Christ. It was occupied by the Moors in 716 and recaptured in 1040 by Ferdinand I, King of Castile and Leon. It was the seat of the Portuguese courts from 1093 to 1147. Braga is the seat of the archbishopric, whose archbishop is a Portuguese primate. Braga's importance carried on in the Middle Ages with the presence of the Bishop of Braga, who fought for power with the Bishop of Toledo.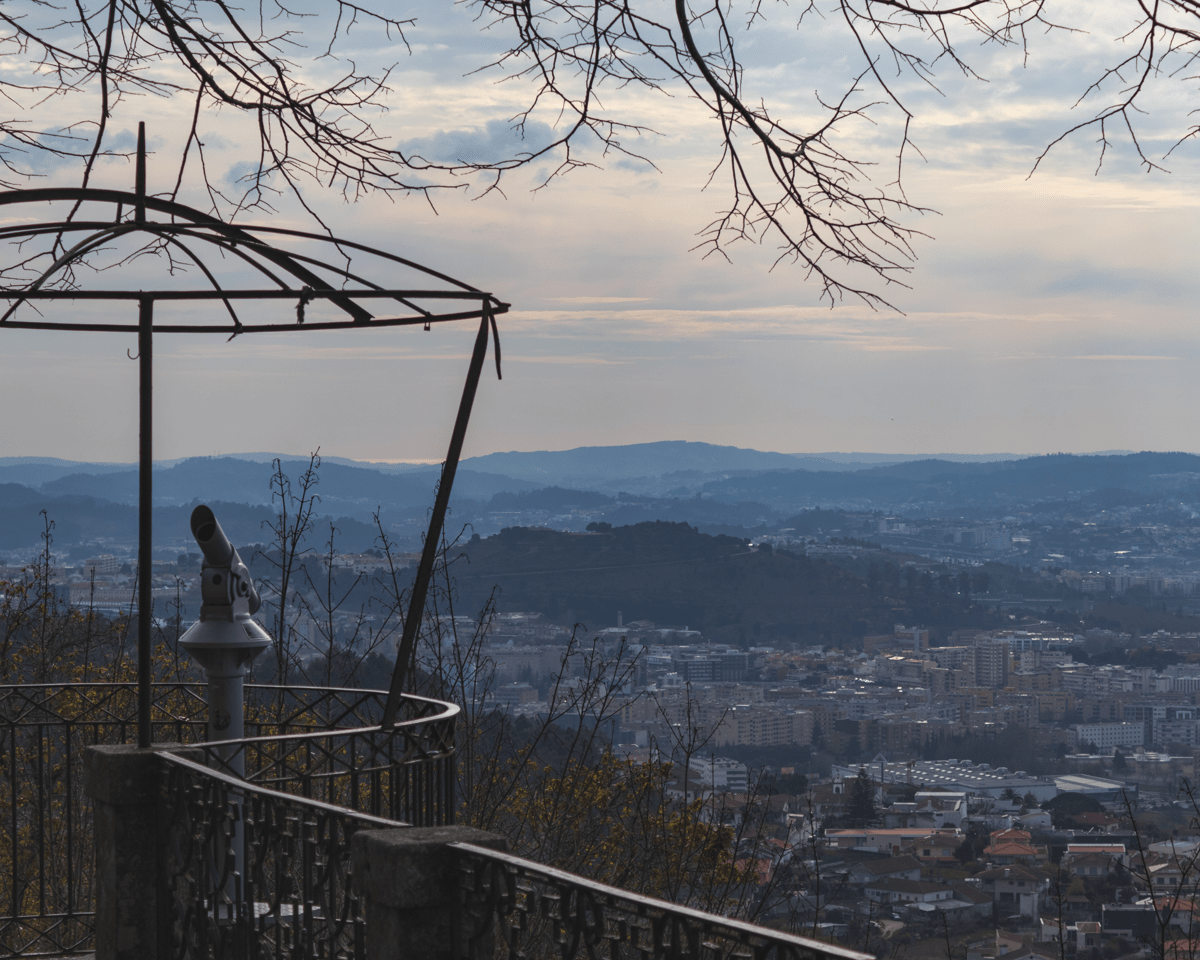 Braga is the oldest city in Portugal and one of the oldest Catholic cities in the world, with over 2000 years of history. The city was founded by the Romans in 16 BC and was named after 'Bracara Augusta' in honor of Emperor Caesar Augusto. Braga has witnessed the existence of many ancient civilizations, for example, the Roman and Celtic civilizations.
Environment
The city is located in northern Portugal, 190 meters above sea level and 30 km from the sea. Braga's climate can be described as Mediterranean with warm, sunny summers and mild, wet winters. Throughout the year, the temperature fluctuates between 5.5°C and 26.7°C, but rarely falls below 1°C or above 32.8°C. The coldest month (January) has an average temperature of 9 °C and the hottest months (July and August) have an average temperature of 21.4 °C. Based on sights, the best time of year for activities in Braga's temperate climate is from mid-June to mid-September.
Winter days are mild from December to February. There are many sunny days when the air is mild during the day, but it can get chilly at night. During the coldest nights of the year, temperatures are just below freezing. During good weather, fog can also occur at night or early in the morning. However, there is also bad weather with wind and rain. Snow in Braga is rare, but not impossible.
Summer days are normally warm and sunny with little rainfall, from mid-June to mid-September. Due to the short distance to the sea, the summer remains relatively cool, with maximum temperatures of 20-22°C especially in June and early July. However, mid-June to early September can be very hot, with temperatures reaching 37-38°C or higher.
Culture and Nightlife
Cuisine
From Bom Jesus do Monte to Braga Cathedral, Braga has a lot to offer. But the more important question for foodies is what to eat. Here are some of the most popular local dishes to try in Braga.
Bacalhau à Braga, sometimes called Bacalhau à Minhota after the surrounding Minho region, is one of the best and most popular recipes you can find in Portugal. It is easy to find in other parts of the country, but here in Braga, it is on the menus of almost every restaurant, so it is worth a try. The recipe combines bacalhau with sliced potatoes, onions, roasted peppers and plenty of olive oil for a hearty and flavorful dish.
Portugal has many desserts and one of the best, Pudim Abade de Priscos, comes from Braga. This dessert is very sweet and soggy, but very delicious. It is best combined with a cup of black coffee, either café (espresso) or abatanado (similar to Americano) to wash it down.
One of Braga's signature pastries and famous Portuguese sweet are the Tibias. It is called the tibia because its shape resembles the tibia bone. This pastry is a sugar-dusted crispy dough filled with sweet cream. The filling can be anything, for example, banana, pineapple, raspberry, hazelnut, caramel or cappuccino. It goes well with hot tea or coffee.
Caldo verde is a popular Portuguese soup, consumed in most Portuguese households, but also served in some fine dining restaurants. Although there are some regional variations, it is usually made from a combination of potatoes, collard greens, olive oil and a pinch of salt.
Traditionally, Caldo Verde is served with cooked and sliced chorizo sausage, but other meats can be substituted. In northern Portugal, kale is used instead of collard greens. The dish was created between 1936 and 1976 in a former state called Minho.
Apparently, the nuns were very creative. They were the creators of this addictive lemon and cinnamon flavored cookie, named Fidalguinhos. Fidalguinhos is maybe just another biscuit, but they are very flavorful. The biscuits are often eaten by the locals around Easter time. Definitely stop by. If you do, order a few of these little gems.
Like most Portuguese sweets, the recipe for Fidalguinhos comes from a local monastery. In this case, Convento de Nossa Senhora dos Remedios de Braga. A light cinnamon-lemon flavored biscuit that is as sarcastic as it is delicious. Designed with legs crossed, it seems to represent people who were born rich and had no trouble doing anything.
Traditions
With over 2000 years of history, Braga is a city full of its own traditions that makes it special. Besides the famous Semana Santa and the indispensable St. John, there are a few more peculiar customs that are part of Braga's identity but are lesser known.
Christmas with bananas and Moscatel wine
At Christmas, a true reunion of the people of Braga takes place in the historic center. On Christmas Eve at the end of December 24th, you can see the Rua do Souto and Largo do Paço filled with crowds. The reason? The tradition of eating bananas while drinking Moscatel wine.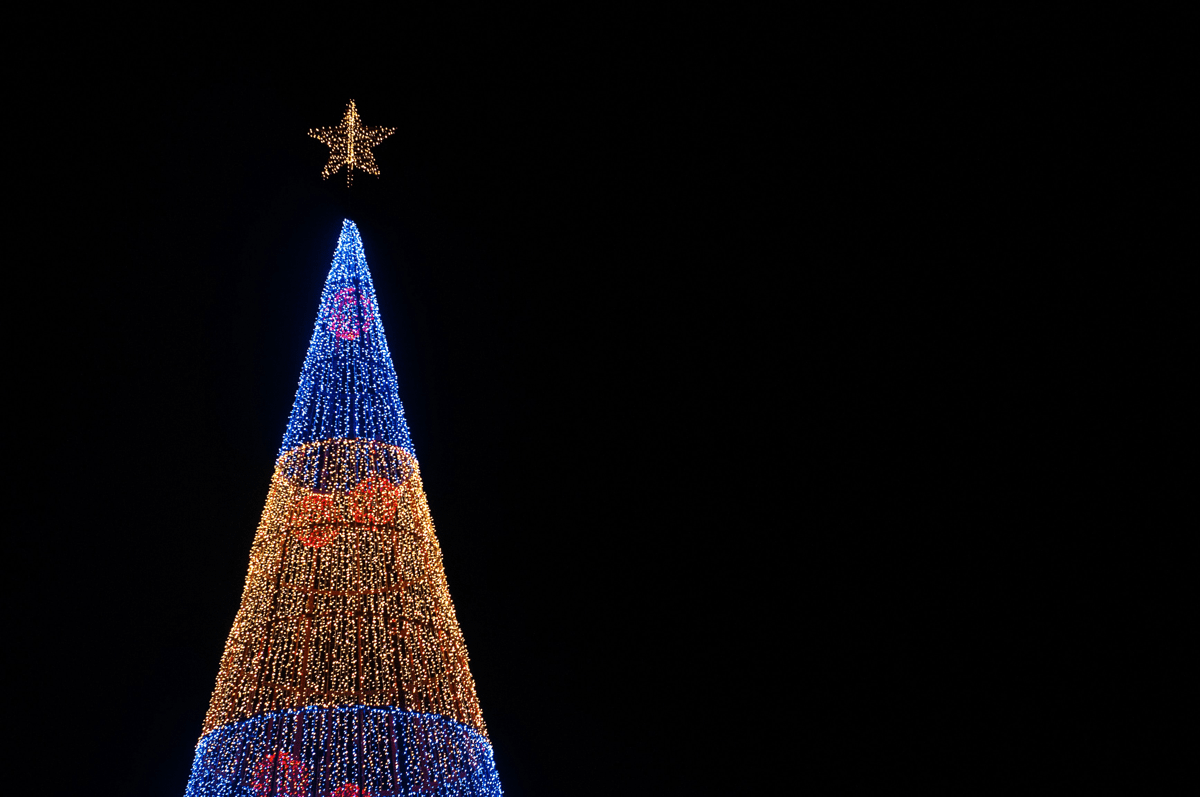 It all started in Casa das Bananas, an old shop on Rua do Souto, one of Braga's main streets. Initially, the place only sold bananas, with a small counter serving Moscatel wine. Owner Jorge Rio has made a habit of serving fruit with Moscatel wine. His son's friends even started a small private tradition of gathering at the store on Christmas Eve to eat bananas and drink Moscatel wine.
Years later, the restricted custom became a tradition open to the entire city. Each year, friends and family gather at Bananeiro's best-known spot to chat over bananas and Moscatel wine. This is a quirky but fun tradition.
Holy Cross Church and its matchmaker roosters
Passing Largo Carlos Amarante and seeing people with their chins and noses up next to the Holy Cross Church, you do not have to speculate what they are doing. According to an old legend, this church is the setting for some of the strangest and most interesting traditions in the city.
As the Baroque building shows, the façade of this church has several reliefs, including three roosters. According to legend, any young woman who wants to marry quickly must find all three of these roosters. But finding one among them is no easy task, and according to myth, a woman who cannot find them will not be able to get married. So, searching for the matchmakers' roosters of Holy Cross Church became tradition for before you get married or out of curiosity.
Longuinho and the brides who want to rush their weddings
It was during Saint John, a young woman walks around the statue of Sant Longuinho, muttering something. Strange as it may sound, it is just a tradition that stems from an urban legend.
According to a story handed down from generation to generation, a wealthy farmer named Longinho lived near Bom Jesus for many years. According to legend, he fell in love with Rosinha, a humble peasant's daughter, and asked her father for her hand. Rocinha did not loved Longinho back and she already was planning to marry another man in Bon Jesus. So Rocinha turned to Saint John for help. The saint wanted to help her, so he asked Longinho to grant Rosinha to wed her true love. The farmer Longinho withdrew his proposal and even became the best man at Rosinha's wedding.
Since then, girls who want to rush their wedding go to him during Saint John's celebration and pray around the statue of S. Longinho so that they do not have to find another love like him. What seems like a strange ritual to people outside of town is a romantic act and another matchmaking tradition in town.
Nightlife
Braga is a melting pot of centuries, cultures and nationalities, with a large permanent population, many students and thousands of tourists roaming its ancient streets yearly. There is so much to do here, and Braga's nightlife is as diverse as the people who roam the streets during the day.
Braga is in many ways a typical university city, offering plenty of entertainment at low cost to those who live and travel on a budget. Bars, cafes and dance clubs are popular spots for young and old. There are also plenty of restaurants, theater performances and fun activities to keep people entertained. Whatever you are looking for in Braga's nightlife, Portugal's oldest city probably will not disappoint you.
There are many late-night bars and dance clubs as a result of the large student population in Braga. The bars and clubs suit every musical taste and also different budgets. For those who want to spend their evening in a more relaxed atmosphere, there are many restaurants to enjoy. There are plenty of activities to do in Braga, for example, go to the cinema or go to the theatre.
Activities
Braga offers a wide range of tourism activities such as religious tourism, cultural tourism, business tourism and many other types of tourism that satisfy different tastes. Visitors can, for example, stroll through the Santa Barbara Park with its wonderful landscapes and colorful flowers with a view to the former bishop's palace. Travelers can also explore the churches or chapels that are spread throughout the many districts of Braga. Or explore the many museums with a huge collection of beautiful artifacts before tasting the delicious food and drinks in the many restaurants in Braga.
Stroll around the garden of Santa Barbara
For a break from exploring the churches, visit the Jardim de Santa Bárbara. This exquisite garden adjoins Braga's medieval bishop's palace, flanked by the beautiful north wall of the palace topped by a typical pointed merlons. The geometric design combined with a variety of plants and hedges make the Santa Barbara Garden a pleasant place to relax and explore. Historical relics line the ornate Baroque gardens, like the ruins of a medieval palace that once stood here. Saint Barbara is the patron saint of Santa Barbara Gardens. Her statue is in the center of the garden above the fountain.
Go to an S.C. Braga game
Braga is home to one of the country's most popular football teams, along with Porto, Sporting Lisbon, and Benfica. They have had some success at the European Championships. If a local game is on during your trip, why not attend and watch the team play? The stadium is of its own impressive and can accommodate over 30,000 spectators, it is the seventh-largest stadium for football in the world! The stadium is constructed from the granite of an ancient quarry, this unique location makes the setting very special. You can learn more about the team and their home stadium by taking a stadium tour. The stadium is located in the Parque Urbano district in the northern part of the city, it is easily accessible via public transportation.
Admire the Sé de Braga Cathedral
No visit to Braga is complete without seeing the cathedral. The Sé de Braga Cathedral is one of the most important religious monuments in Portugal. The cathedral is the seat of the Archdiocese of Braga and the Archbishop of Portugal and Spain. Since 1910, the Braga Cathedral has been a National Historic Site. The Gothic building dates back to 1070 when construction began, but it took a century to finish. The building has been rebuilt many times, adding Romanesque, Gothic, Manueline, Renaissance and Baroque elements and decorations. After viewing the cathedral from the outside, you can look inside the cathedral treasury. In the treasure collection you can find centuries of art. Another great thing about visiting Braga Cathedral is visiting the upper choir to see two Baroque organs and gilded brickwork.
Check out the Museu de Arte Sacra
The Museu de Arte Sacra is located in one of the old buildings of the old monastery of Arouca. From textiles to sculptures to tapestries to paintings, the collection has a wide variety of interesting sacred art. Founded in 1930 and housed in the former Casa do Cabido, the cathedral's treasury museum includes the cathedral's various chapels and a high choir with an Iberian organ. Textiles, pottery, statues, goldsmiths, paintings and sculptures stand out among the examples of sacred art found here. Permanent exhibition "Roots of Eternity". Jesus Christ – a Church dedicated to sacred art allows us to revisit the life of Jesus Christ and the history of the Church of Braga through various nuclei.
Watch the world go by in the Praça da República
This square in the heart of historic Braga is known locally as 'Arcada'. It takes its name from the 18th-century arcaded house on the west side of the square. The square itself was designed in the 1800s and is a long grand square surrounded by tall residential buildings. Partly because the tourist office is here, but the square and bright streets have many attractions, so it makes sense to start your visit to Braga from here. Praça da República is located between São Francisco and Barão de São Martinho squares and Avenida da Liberdade. Dating back to the Middle Ages, Praça de la Repubblica is always crowded, especially at sunset. The car-free square is an important part of the Old Town, and it features numerous cafes and restaurants. It is also a place to find shade and a cool drink during the day, and at night you can dine and enjoy the majestic setting.
Visit the sanctuary of Bom Jesus do Monte
The most popular tourist destination of the city is located on the eastern hills, a UNESCO World Heritage Site and a pilgrimage site of Bom Jesus do Monte. This impressive church is located on top of a hill among trees, this impressive church is just 3 kilometers from the city centre. The church is 116 m high, and you have to climb more than 500 steps to reach the top. Thus, for the travelers who wants to see the panoramic view from the sanctuary of Bom Jesus do Monte, you have to work hard for it. The whitewashed steps leading up to the beautiful church are a sight in itself. The beautiful Baroque staircase is one of the most photographed in Portugal.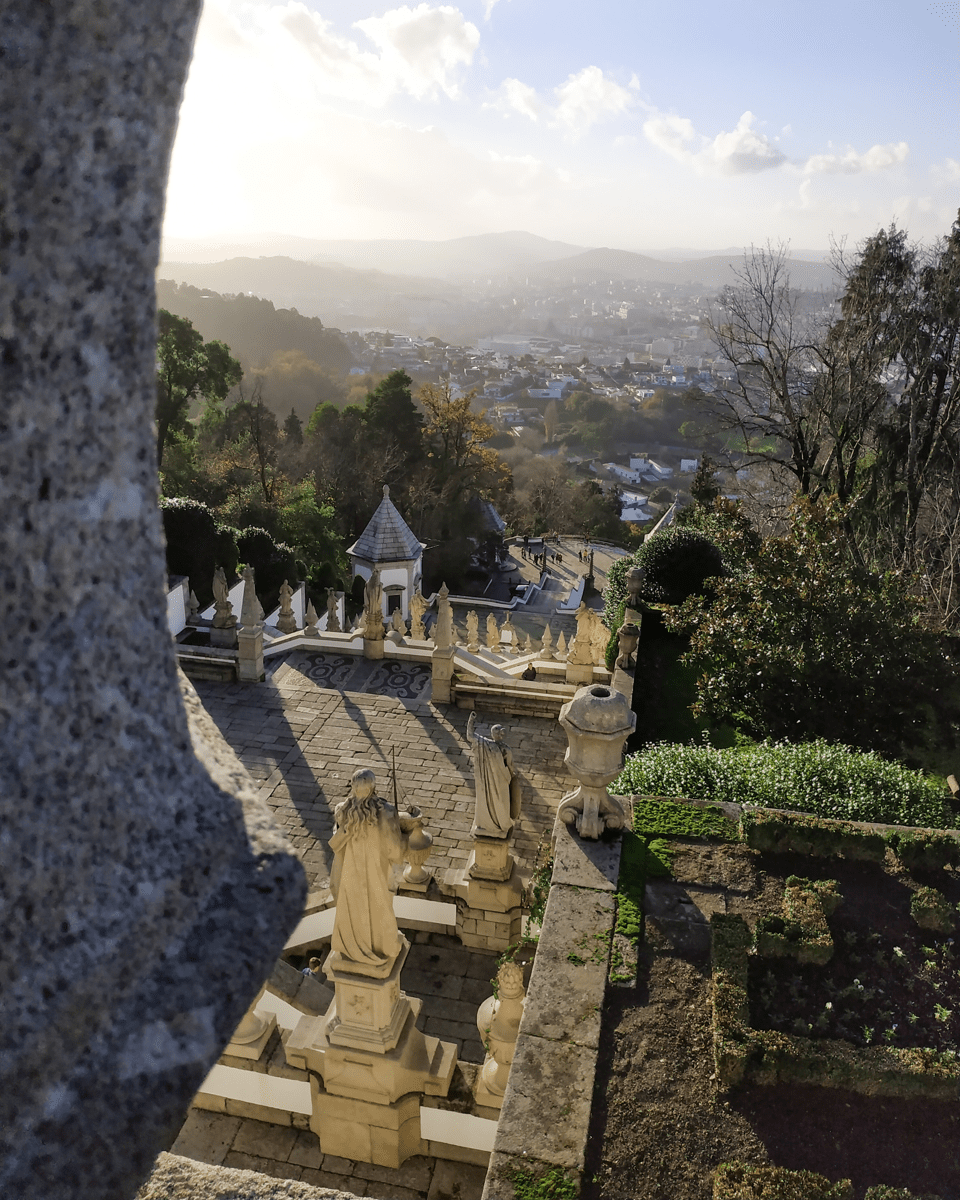 The monumental staircase represents the Ascension of Christians, and when you climb the staircase, you can see statues from throughout Christian history, as well as a small chapels representing the passion of Christ. At the top of the staircase, you will be rewarded with the sanctuary of Bom Jesus do Monte, which was built in 1784. The architectural styles of this beautiful church are a mix of Baroque, Neoclassical and Rococo. The view of the city overlooking the church is mesmerizing. In the park around the church, you can go for walks, visit old caves and even take a rowboat out on the lake.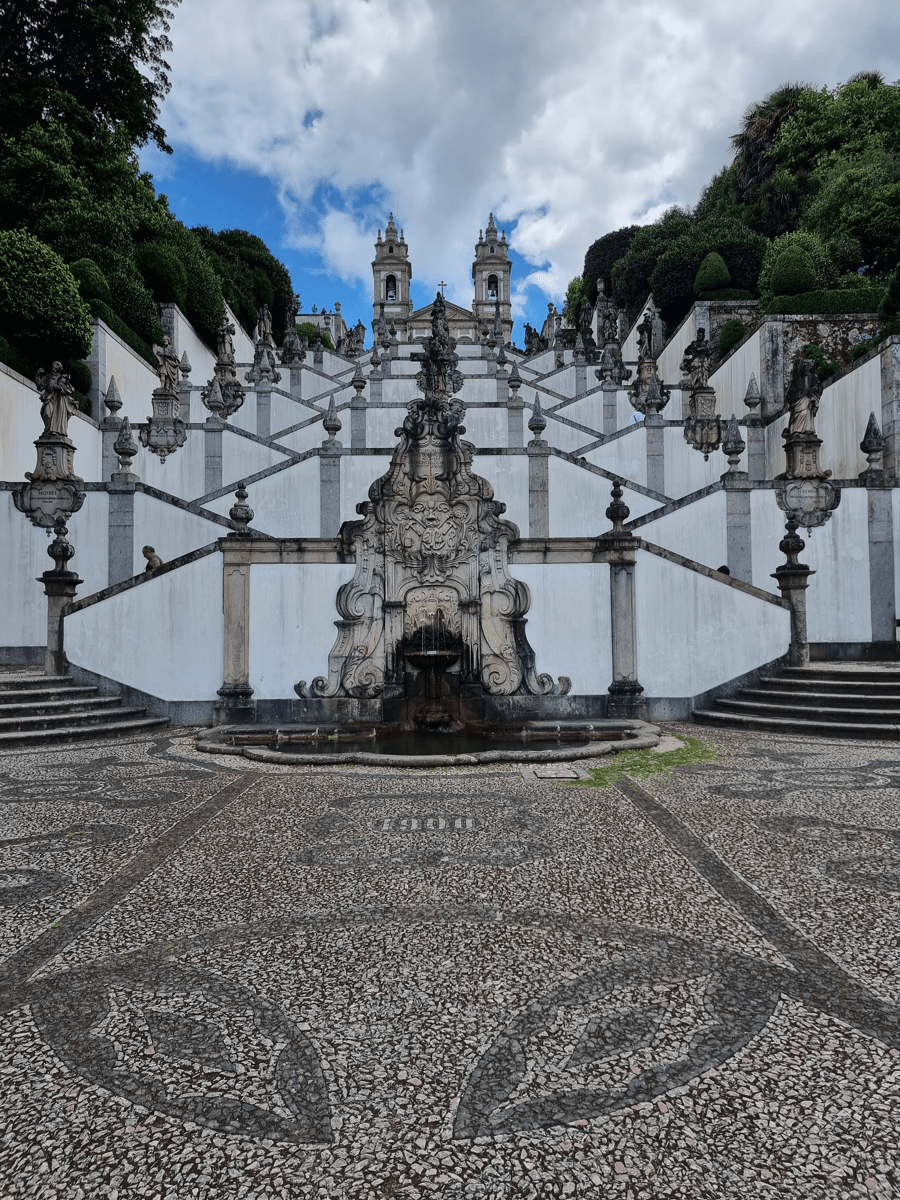 Ride on the funicular
Not in the mood to climb up the staircase? Bom Jesus do Monte can be reached by the funicular elevator built in 1882. The oldest funicular elevator in the world with a counterbalance water level system. The funicular elevator goes in opposite directions at the same time. Those coming down the hill are weighted with water, and the lighter ones make their way up the track. The engineer who designed the funicular elevator, Nikolaus Riggenbach, also designed Lisbon's famous funicular railways. The elevator runs every 30 minutes. A novel and fun way to reach the hilltop sanctuary of Bom Jesus do Monte.
Have lunch at café Vianna – the oldest café in Braga
If you are visiting Braga, you cannot miss this iconic cafe that dates back to 1858. Café Viana has played an important role in Braga's social life throughout its history. As one of the city's most recognized cafés, it has become a meeting place for nobles, artists, activists and everyone in between. The individuals who participated in the 1926 rebellion gathered at the café. Today, the purpose of the cafe is to enjoy breakfast, lunch, coffee, cakes, and snacks instead of discussing politics.
Taste some Vinho Verde
The primary regional beverage in the Minho region is Vinho Verde, which is referred to as "green wine". Northern Portugal is the region that produces green wine, it is one of the oldest wine regions in the world. The wine industry is considered to be one of the most significant economic sectors in the Minho region. Why green wine? The region's greenness may have contributed to the name, but the actual reason for the name Vinhos Verdes is that young grapes are used to make the wine. Participate in a Vinho Verde wine tasting during your visit to Braga to understand the entire process of making this delicious drink. Do not overlook the opportunity to try some as well. Famously, the wine is crisp and light, and often has a little sparkle.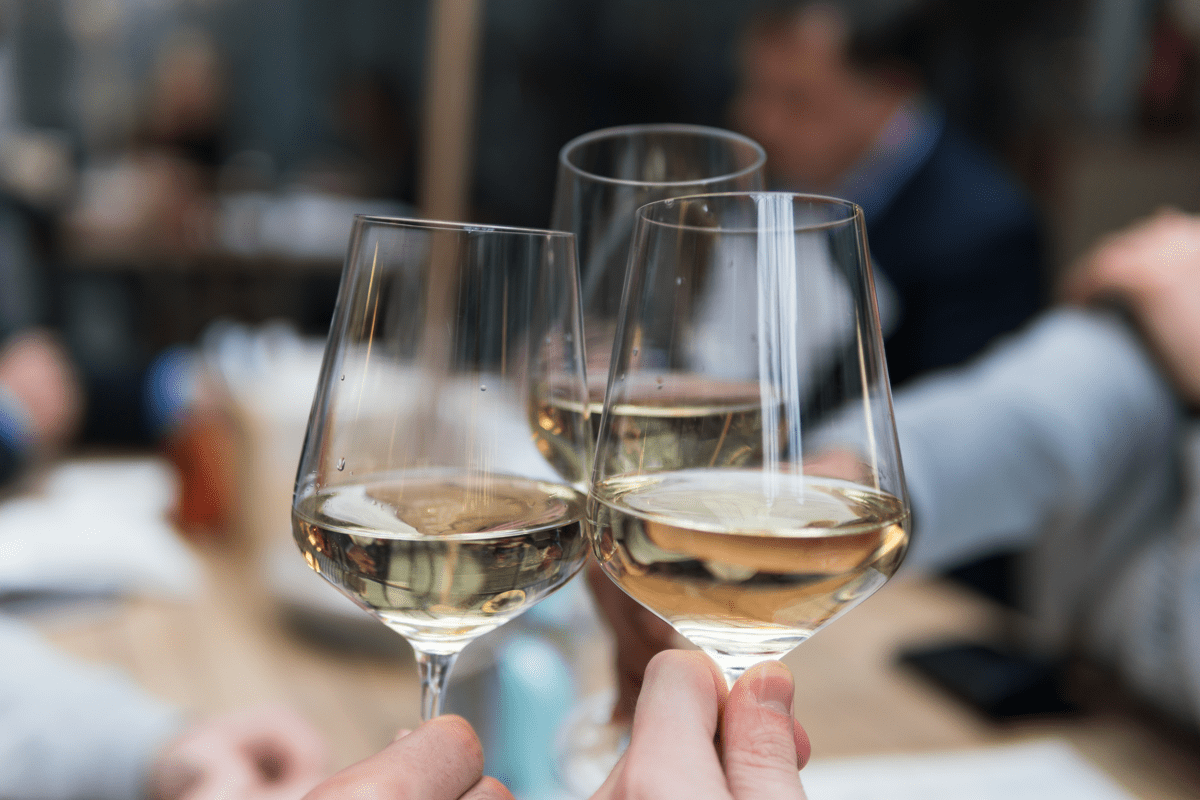 Public transport
Exploring all that Portugal has to offer does not require personal transportation. The country boasts an efficient, affordable, and user-friendly public transport system that competes favorably with those of other European nations.
Portugal boasts a comprehensive public transport network that is accessible and efficient despite its small size. The country's trains, trams, buses, taxis, and funiculars are user-friendly and well-maintained, offering reliable connections to major cities and international destinations. In 2020, more than 86 million rail passengers traveled over 2.2 billion kilometers, while tram and bus passengers covered an additional eight billion kilometers, according to the International Union of Railways. The average Lisbon commuter spends 45 minutes daily on public transit, with one out of four users enduring a lengthy two-hour commute.
There are websites and mobile apps of most public transportation companies in Portugal with up-to-date information on timetables, routes and ticket sales. Omio is a convenient travel site that brings together train, bus and plane tickets in Portugal. Better prices can be found directly on the supplier's website, but Omio is well presented and helps you compare travel options.
Trains
The state-owned national train operator, Comboios de Portugal (CP), manages Portugal's expansive and picturesque rail system, which transports a staggering 145 million commuters annually. Although railway lines stretch across the country, the quickest and most frequent routes run between key metropolises, including Lisbon, Porto, Aveiro, Coimbra, Faro, and Lagos.
CP offers the following train connections:
Alfa Pendular (AP): With a maximum speed of 220 km/h, Alfa Pendular (AP) is the fastest, most comfortable and most expensive direct flight. The service runs from Lisbon to Porto, from Coimbra and Braga in the north to Faro in the south.
Intercidades (IC): IC trains are fast and less expensive long-distance transport, reaching speeds of 200 km/h. The trains are a little older and make several stops between major destinations.
Regionais (R): The train is CP's local service and stops at all train stations outside Lisbon and Porto suburbs. Significantly slower and simpler than AP and IC.
Urbano (U): Urbano trains are CP's commuter city service, mainly serving the surrounding areas of Lisbon and Porto.
Commuters are allowed to bring along bicycles, pets, and their luggage at no extra charge. However, they are advised to check the CP's general information page for specific regulations. Although CP operates mainly in Portuguese, they provide some information on their website in English. Furthermore, announcements in major cities are made in both English and Portuguese during arrivals and departures.
CP provides a convenient mobile application for Android and iOS users, enabling them to verify schedules, reserve tickets, and modify their journey plans.
Buses
The Braga Bus Station houses the following bus companies: Arriva, Citi Express, EBA, Get Bus, Internorte, Rede Expressos, Renex, Rodonorte, Salvador Alves and Fihos lda, Transdev, these companies provide connections to multiple destinations in regional, national and international transportation.
Braga's local buses are operated by Transportes Urbanos de Braga. Generally, Transportes Urbanos de Braga buses depart from 7am-9pm, but many of the routes to rural areas do not operate on weekends or holidays. 1-day, 2-day and 3-day tourist tickets are all available on a daily, weekly or monthly basis. Rede Expressos, Rodonorte, TransDev, Arriva and EBA are the leading bus companies for long distances. Limited service applies on weekends and public holidays.
Car
Taxis are common in large cities and can be beneficial at the right time of day. Rates typically increase by 20% following 21:00 or on weekends and holidays. Taxis are considered to be safe and dependable in Portugal, but it is still beneficial to ask for the price in advance and provide the driver with a written address of your destination. You can estimate the cost of your trip by using TaxiFareFinder. Many taxi stands are located in large cities near train stations and luxury hotels. However, the safest option is to book a taxi or arrange one through services like Retalis or Cooptaxis.
Uber has encountered difficulties in Portugal but is now able to operate in major cities like Lisbon, Porto, Coimbra, Braga, and Faro. Other methods of transportation, such as Cabify or Bolt, could also be attempted. Services that provide shared rides, such as BlaBlaCar and Boleia, are increasing in popularity in Portugal and are particularly beneficial for reaching rural areas. It is beneficial to make a comparison of prices between ride-sharing platforms and traditional taxis in order to determine which provides the greatest benefits and simplicity.
International trains
For those seeking transit across the Iberian Peninsula, international trains offer connections to key cities in Spain and Portugal. The Celta train runs between Vigo (Spain) and Porto, while the Lusitania overnight train connects Madrid, the Spanish capital, with Lisbon. If you are looking to explore further into Europe, Hendaye, a French town at the Spanish border, offers trains to multiple European destinations. Reservations for these cross-border trains can be made on the CP website or through the national railway company of Spain, RENFE.
Housing
When deciding whether to buy or rent a home, it is a good idea to think about the real estate market. Braga has grown in popularity in recent years among expats, students and, increasingly, tourists looking to explore northern Portugal. When buying a home, you should be able to rent out part of the year so that you can recoup your investment in the long run. In addition, property prices in Braga are generally very affordable compared to other cities in Western Europe, so buying rather than renting property is recommended. However, buying real estate is a big investment, so this is entirely circumstantial.
Renting a house in Braga can save you some money up front as it is conveniently cheaper than Lisbon or Porto. Living in Braga is an excellent option as you can rent spacious and modern properties at very affordable prices. Rent in Braga is considerably cheaper than in Lisbon.
According to Numbeo (June 2022), rental prices in Braga are about 43% lower than in the capital Lisbon and 23% lower than in Porto, the country's second-largest city. For more information, here are some prices (rounded up or down):
A one-bedroom apartment in the city center – €550
A three-bedroom apartment in the city center – €925
A one-bedroom apartment outside the city center – €442
A three-bedroom apartment outside the city center – €733
Rent costs depend on the part of town you choose to live in, the size of your apartment, how old your apartment is, and other factors. Some properties include utilities, while others require you to pay an additional fee.
The policy for foreigners is very flexible for foreigners looking to buy property in Braga or elsewhere in Portugal.
When you live in Braga, you live in one of Portugal's jewels. It attracts more and more digital nomads and expats, but still retains its authentic Portuguese character. Whether you are looking for a modern town house or a country house with a large garden, Braga Portugal offers a wide variety of properties and homes for sale. Although there are specific steps to follow, the process of buying property in Portugal is pretty straightforward.
Your hunt for the perfect apartment should begin with research. Get to know your target area, the city's geography, and the housing market. Once you have determined your location and budget preferences, identify what apartment features you require. Do not be too fixated on a specific area and take the opportunity to view as many units as possible in a short amount of time. Utilize social media and online communities to expand your search. Remember that swift action is necessary in a highly competitive rental market, as online apartment listings can be short-lived. Consider starting with a short-term rental as a temporary solution while you search for a long-term apartment.
Recruit4Work has partnered with two accommodation providers, Housing Anywhere and Uniplaces, to give you significant discounts on apartment rentals. Simply select your preferred website and enjoy discounted rental rates. For more information, click here!

Healthcare
It is well known that Europe's healthcare system is generally one of the best and most up to date in the world. They are also socialized to some extent and the idea of insurance, while valid, is less necessary or secondary than, for example, the US or Brazilian model. Portugal is no exception to this fact. The country has both public and private healthcare systems. However, public healthcare is the most used and, with one or two exceptions, works pretty well.
Braga has a national health system with public and private hospitals, with private clinics in various medical specialties, and a family medicine department that gives medical care to the entire nation and region.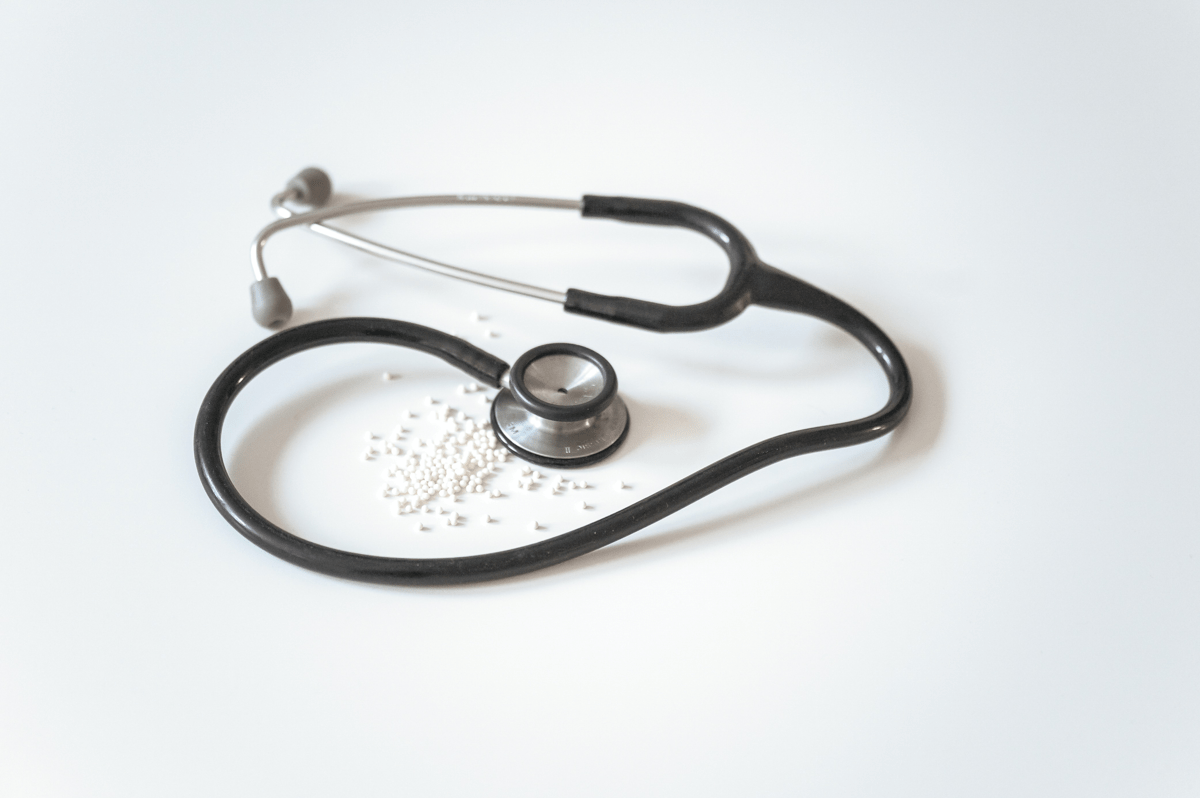 Expatriates from Europe residing in Portugal can rest assured that they are entitled to the same rights as Portuguese citizens, thanks to reciprocal agreements. For those planning to visit, carrying a European Health Insurance Card (EHIC) ensures access to government-funded medical care at any hospital or with any doctor. Non-Eurozone foreigners, on the other hand, are required to obtain a Número de Utente to avail themselves of the National Healthcare. This requires legal regularization status in Portugal, which means holding a valid visa or residence card. In doing so, they can enjoy the same rights and benefits as Portuguese citizens.
In addition, some countries that have bilateral treaties with Portugal also share the rights of Portuguese citizens, such as Andorra, Québec, Morocco and Tunisia. Citizens of Brazil and Cape Verde are also easy, they can access the Portuguese national health care by applying for a document called PB4 at home. By simply obtaining a Certificado de Direito à Assistência Médica (CDAM), Brazilians are entitled to public health care with exactly the same rights as Portuguese citizens. These rights are transferable to all relatives. With your Utente number, you can access the Portuguese public healthcare system without any problems.
For those residing or laboring in Portugal without reciprocal accords with their homelands, two alternatives exist. The first is contributing to an income-dependent, step-by-step social security system. The second alternative would be selecting one of the numerous private health insurance schemes obtainable.
With private insurance, private doctors and healthcare facilities are readily accessible. Enhancements to the healthcare system were implemented through public-private partnerships for new hospitals, hospital management restructuring, pharmaceutical reforms, primary care reorganization, and the establishment of long-term care networks. Fluency in English is possessed by almost all doctors in the public and private healthcare systems. Accessing private healthcare can expedite appointment scheduling, relative to public healthcare.
In case of an emergency
Here is a list of Braga's emergency numbers. There are also some emergency words and phrases that can be useful in an emergency. The emergency numbers for Portugal are 112 for police, fire resue and medical emergencies.
Police: 112 
Ambulance: 112 
The number 112 is a European emergency number for contacting emergency services in all EU countries and languages. Save this number if you travel in Europe!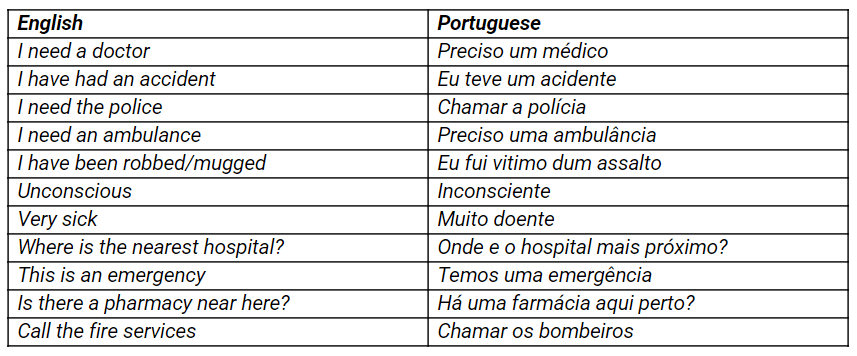 Some words to get you started
Portuguese is a western Romance language that belongs to the Indo-European language family. It originated in the European Peninsula of the Iberian region. The language is spoken in Portugal, Brazil, and other Portuguese colonies and former colonies. Portuguese has a total of about 260 million speakers, with about 230 million native speakers and 25-30 million second-his speakers. It is typically ranked sixth as the most commonly spoken language in Europe, the third most popular language in the world, and the second most popular Romance language, after Spanish.